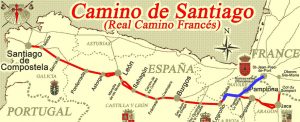 I intially thought that the Camino was a walk for Catholics to follow an ancient pilgram route, but in fact it is so much more than that.  Currently about 250,000 travel there every year.
From the people I met , it is a unique walk which benefits from hundreds of years of other travellers use.  Thus the paths are well marked, each stage is broken into manageable stages , it is safe and the locals make you feel welcome.  You could walk the entire route alone or chat to everyone you come upon.  So from those I met it suits those who just want to get away from the modern world, those who are dealing with health, work, relationship or family issues.  Whether you go alone or in a group, you can decide each day what you want from it.  So it is a Spiritual walk.
Since the 9th Century people travelled to the town of Santiago de Compestella to see a shrine dedicated to St. James.  Those travellers grew in big numbers over the centuries and they often returned with a Scallop shell to prove they had made the walk.  The Scallop shell is also a metaphor , when all the grooves represent the various paths that join at the one point.  It is now the symbol to follow that guides travellers across the Ways of St. Hames aka Camino de Santiago.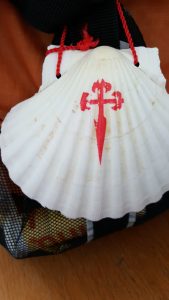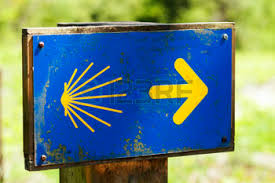 The walk I was doing was "Part 1" of the "The Way of St. James" aka Camino Francés and in total is 790km from Saint-Jean-Pied-de-Port(France) to Santiago de Compestello.  In fact many continue on for another 75km to Finisterre by the sea, which was known as the "end of the earth" to ancient pilgrims.  There is also an Irish Camino Way that starts from St.James Gate and if you look carefully you will see the brass shells on the ground.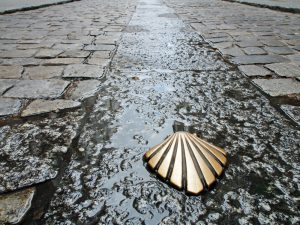 You carry a "Pilgrims Passport" which you need to get stamped twice a day, your accomodation and a church or other stop along the way. It lets you stay in the official pilgrim accommodation in France and Spain.  You need to walk at least 112km to be awarded a "Compostela" or certificate of completion.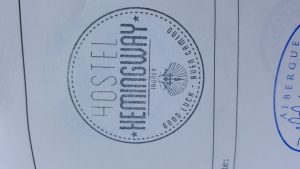 More info here http://www.caminosociety.ie/